About
The earliest publishers were also printers.
These noble careers diverged as the cost of owning newer, high speed printing equipment became too expensive an investment for most publishers. Those publishers who continue to print, and there are a number in the Connecticut Valley of Massachusetts, preserve the hands-on creation of fine works of art and literature. Adastra Press, Kat Ran Press, Pennyroyal Press, Swamp Press, and Warwick Press all work locally, carrying on a 500-year-old tradition, creatively combining letterpress, offset, and high-resolution digital imaging.
Levellers Press, formed by the worker-owners of Collective Copies in 2009, comes from a completely different direction to a publishing world in flux. We have witnessed a revolution in imaging technology from the first analog color copiers, to Xerox Docutechs in the 1990s, to today's 2400 dpi Xerox Docucolors printing on sheets as large as 13 x 19 inches. Unwieldy graphic files and slow computer processing have given way to lean Adobe Acrobat documents, high speed scanners and speedier RIPs (rasterized image processing).
Our core business allows us to own this new technology, including the bindery equipment that completes a high quality print-on-demand publication. We find ourselves embedded in the rich political and cultural environment of Western Massachusetts where many worthy manuscripts go unpublished. As Levellers Press, we hope to provide a ready vehicle for authors whether we publish their work or help in a self-publishing effort. We have worked successfully with authors and publishers all over the U. S. and welcome all inquiries.
---
The Levellers
They hang the man, and flog the woman,
That steals the goose from off the common;
But let the greater villain loose,
That steals the common from the goose.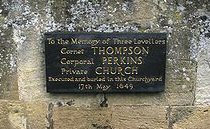 In England and Wales, enclosure (whereby previously common fields and pasturage were seized and privatized for the exclusive use and benefit of individual owners) ended the ancient system of arable farming in common open fields and meadows. In its wake, thousands of people were unable to earn a livelihood as they had for generations. Compounded by increasing rents and new vagrancy laws, the enclosures of that era touched off riots. Rebels filled boundary ditches and leveled hedgerows earning themselves the sobriquet "Levellers".
By the time of the English Civil Wars in the mid 17th century, the name was adopted by a political movement which emphasized popular sovereignty, extended suffrage, equality before the law, and religious tolerance.
Read more about the Levellers.