About Thornapple Books
Thornapple Books, the literary fiction imprint of Levellers Press, publishes engaging, distinctive and emotionally resonant work. We are dedicated to publishing a small number of novels that exemplify extraordinary writing.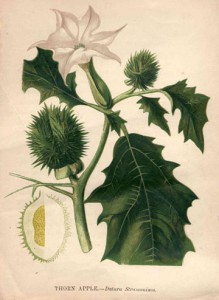 The thornapple or hawthorn tree, our namesake, is legendary for its beauty, its sturdiness and it's ancient association with supernatural worlds. Providing food, shelter and medicine, it is an emblem of hope said to heal a broken heart and give the weary rest. Used for fence posts, it marks boundaries; used in grafting, it transcends disparity. And so in like manner, well-crafted literary fiction charms, nourishes, protects and heals, delineating and amalgamating. These diverse properties Thornapple Books exits to celebrate.

Thornapple Books exists to publish novels that are rare and fine. We seek works of beauty and depth, lyricism and heart, fiction distinguished by an understanding of the human desire for meaning, connection, and transcendence.
---
Thornapple Submission Guidelines
We are currently closed for submissions.
We are unable to review submissions which do not follow these guidelines.
We accept only unpublished work.
We will consider work that has been submitted simultaneously to other publishers. Kindly indicate it is a simultaneous submission and please withdraw the work immediately upon acceptance by another publisher.
We do our best to respond in a timely manner and request that we not receive inquiries regarding your manuscript under review until we have had four months for our reading.
We accept material from either agent or author.
All submissions must be made electronically.
Please double-space your manuscript, and use Times New Roman font, size 12.
Please copy and paste the first fifty (50) pages of your manuscript into the body of the email.
We will open no attachments.
Click here to e-mail all submissions, if you do not have a default mail program you can right click on the link and select "Copy Email Address."
We regret we are unable to respond to any questions sent to this address. It is to be used only for the submission of manuscripts.
Please include your name, address and contact information. We require no cover letter. Work is to be judged upon merit alone.